Frederick Ballentine, 30, was cast in WNO's "Porgy and Bess" before the COVID-19 quarantine brought down curtains coast to coast.
So what's an opera singer to do with all this unexpected downtime?
"Practice," he says. "I have a lot of music to learn for the summer and for next season. I'm using the free time to get a jump on that, and probably annoying my neighbors in the process. … I'm also trying to contribute to the Artist Relief Tree. Finding a way to be helpful has helped me feel less helpless. And of course, trying to work out and not eat my entire kitchen."
He says the WNO production has been postponed until a future season.
"I initially resented the opera as I suspected it would typecast me out of the repertoire I wanted to do," Ballentine says. "But over time, I grew to love it for its beauty, and the rare opportunity it gave me to embrace the black community in my art form."
Like other artists and performers, Ballentine says he has lost his income during the pandemic.
"Most of us had spent thousands of dollars on the preparation of roles, travel arrangements and housing for our productions," he says. "These are all expenses we're expected to cover, with the assumption that our payment for performance will cover all of it. Because so many companies let us go without any payment, we were unable to cover those expenses."
The lyric tenor has performed opera since age 13. He is originally from Norfolk, Va., but has lived in the D.C. area for four years, since taking a residency with the Kennedy Center's Young Artist Program. He's single and lives in Silver Spring. He enjoys working out, dancing, and student outreach in his free time.
How long have you been out and who was the hardest person to tell?
I was yanked out of the closet in high school by my best friend. It was probably 2005 or 2006. Because it wasn't my doing, coming out was surprisingly easy. The hardest people to tell were my parents, who I told four years later.
Who's your LGBTQ hero?
Growing up, my gay teachers were my heroes. One in particular, Mr. Brown, was the most out and proud man I knew in my youth. He had no shame in himself, and that helped me find my own pride.
What LGBTQ stereotype most annoys you?
That we have too much sex and party too much to desire a structured home life. I've always wanted to settle down and get married and have kids. For as long as I can remember. My career has made that difficult, not my homosexuality.
What's your proudest professional achievement?
Making my Metropolitan Opera debut in the fall
What terrifies you?
The idea of losing any loved ones while we're dealing with this. I seem to be way more worried than my family for some reason.
What's something trashy or vapid you love?
Working out and then staring in the mirror. I'm often vain.
What's your greatest domestic skill?
I was always meant to marry rich and have a maid who cooks. Since I haven't practiced for life, I guess ordering takeout is my greatest domestic skill.
What's your favorite LGBTQ movie or show?
I saw 'The Inheritance' a year ago and I still cry when I think of it.
What's your social media pet peeve?
Any type of challenge. I won't do it.
What would the end of the LGBTQ movement look like to you?
The end of the LGBTQ movement would mean an end to our fear. I want to never be afraid to hold my boyfriend's hand in public. I want parents to never be afraid for their LGBT child's safety when they send them to school. We are still not as protected as straight people. we are still attacked in the streets, and often by our legal system. Until we have the right to feel safe, we will have to continue fighting.
What's the most overrated social custom?
Valentine's Day, but I'm single.
What was your religion, if any, as a child and what is it today?
I grew up Methodist, and I consider myself spiritual now. I have to figure out how to define that.
What's D.C.'s best hidden gem?
Malcom X Park in the summer, Habish Ethiopian Restaurant and Georgetown alterations. I go to all of them the moment I get back to town.
What's been the most memorable pop culture moment of your lifetime?
Janet's nip slip, solely because it was the day I realized how much we punish the female body.
What celebrity death hit you hardest?
I'm still not over the loss of Whitney Houston.
If you could redo one moment from your past, what would it be?
Being too afraid to say goodbye to my aunt before she passed.
What are your obsessions?
Beyoncé, EDM, Tom of Finland, Berlin, Germany.
Finish this sentence — It's about damn time:
that Trump resigned.
What do you wish you'd known at 18?
I wish I'd known how to just be. It takes time to figure that out. And I also wish I'd known how to just shut the fuck up — still figuring that out though.
Why Washington?
At first it was just were I worked, but then I made friends and started building a community. Now its where my heart is. The gay and black cultures here are thriving. Being a part of that has felt like a gift.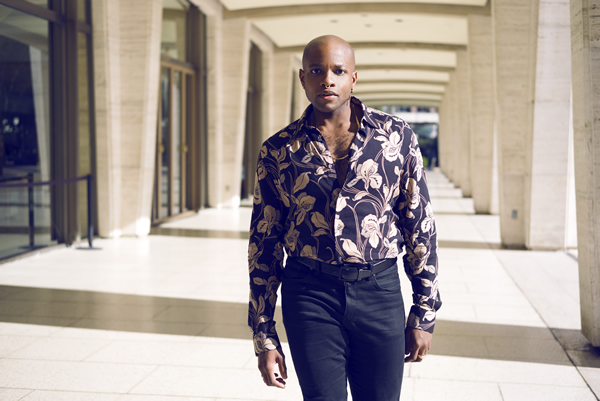 Published at Thu, 02 Apr 2020 21:17:27 +0000